Imam Hussein shouted, "Is there any one who can come to our rescue? Is there any one who can protect the sanctity of the family of Allah's Apostle?" The screaming and crying of women could be heard as a result of his plea.
One by one the companions of Hussain (A) asked for permission to meet in combat with the enemy bidding him farewell, saying, "Peace be with you Oh Aba Abdillah!"; he answered. "Peace be with you; we will follow", reciting, "…so of them is he who accomplished his vow, and of them is he who yet waits, and they have not changed the least". (33:23)
Then the two Jabiri cousins, Saif bin al-Harith bin Sari' and Malik bin Abid bin Sari' emerged crying and asked for permission to fight. Hussain asked them, "What makes you cry? I am hopeful that you will after a very short time have peace of mind and tranquillity". They answered, "We are not crying for ourselves, but for you. We can see that you are beleaguered, and we have no power to be of any good to you". Hussain thanked them. They fought till death.
Then the two Ghifari brothers, Abdullah and Abdul-Rahman sons of Urwah followed and fought and were killed close to Hussain (A).
A group consisting of Omar bin Khalid as-Saidawi, his servant Sa'ad, Jabir bin Al-Harith as-Salmani, and Majma' bin Abdullah Al-A'aithi came out and raided the enemy, the Kufi'ites; when they went deep into their ranks, they were encircled by the troops and cut off. Hussain sent his brother Al-Abbas in a bid to rescue them, which he did successfully. But due to their severe wounds they were overpowered by the Kufi'ites and were killed in one place.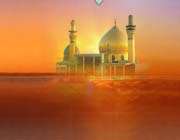 Al-Hur bin Yazid ar-Riyahi attacked the enemy troops killing over forty of them. When his horse got wounded he fought them on foot and fell to the ground. Hussain stood over him wiping away soil and blood which was oozing from his face, saying, "Congratulations oh you Hur! You are Hur (free) as your mother named you". He passed away.
Wadhih, the Turkish servant of Al-Harth al-Mithiji came forward and asked for permission to fight. He fought until he was severely wounded; he called Hussain by name to come to his rescue. Hussain responded. But it was too late as he was in his final moments of life. Hussain hugged him. He said, "I am so lucky; the son of the Messenger of Allah putting his cheek on mine". He died immediately after that.
Aslam, the servant of Hussain (A) was next. He fought bravely. When he was badly wounded he called onHussain for help. Hussain came to him and hugged him. He was still alive. He smiled, thanked God for granting him martyrdom and passed away.
Muslim bin Awsajah assaulted the enemy and fought very bravely. Amr bin al-Hajjaj and a band of his companions counter attacked the camp of Hussain from the direction of the Euphrates. When the two belligerent forces clashed and the dust settled, Muslim bin Awsajah was found fallen but still with a spark of life.
Hussain (A) and Habib bin Mudhahir walked towards him. Hussain said to him, "May Allah have mercy on you oh Muslim!" and recited, " … so of them is he who accomplished his vow, and of them is he who yet waits, and they have not changed the least". (33:23)
Habib bin Mudhahir approached him and said, "God knows how sorry I am that you will die, Oh Muslim! the good news is that you will go to heaven". Muslim replied in a faint voice, "May Allah bring good news to you
Habib added, "If I am not absolutely sure that I will follow in your foot steps I would have asked you to let me know of your will". Muslim answered, "I urge you to take care of this", pointing to Imam Hussain, "You should sacrifice your life protecting him". Habib said to him, "Feel serene and be confident about that". He gave up the ghost to its Creator.
When the followers of Ibn Sa'ad knew of the death of Muslim bin Awsajah they shouted in elation. Shibth bin Rib'ii said to those who were around him, "May your mothers be bereaved. You are killing yourselves with your own hands and bring humiliation to yourselves Do you rejoice at the death of Muslim? He has credit in the service of Muslims. I saw him at the battle of Azerbaijan killing six atheists before the horsemen of the Muslim army had the chance to re-group.
When the troops of Ibn Sa'ad suffered many casualties at the hands of the followers of Hussain (A), Amr bin Al-Hajjaj shouted at his followers, "Do you know who you are fighting? You are fighting clear-sighted knights, bent on killing you; by the Almighty! if you would use only stones against them you would have killed them!." Omar bin Sa'ad retorted, "You are right. Tell the troops not to meet with them in duel, for if you do so you will all perish".
Amr bin AI-Hajjaj attacked the right flank of Hussain's camp. The remaining combatants withstood their ground, falling on their knees, aiming their arrows at the enemy. Thus, forcing the horses of the enemy to refrain from forging ahead. When they resumed their attack they came under a hail of arrows from Imam Hussain's (A) followers causing many casualties among their ranks.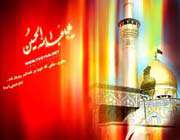 Shimr bin Thil al-Jawshan took on the left flank of Hussain's (A) camp. The combatants proved to be as steadfast as their companions in the right flank. The result was complete failure of the enemy to break through the solid defences of Hussain troops.
Among those who remained alive at this stage of the battle was Wahab bin Abdullah Al-Kalbi who was with his mother and wife. His mother urged him to come out and support the son of the daughter of the Messenger of Allah. He answered, "0 mother! I will do my best". He came out chanting these sonnets.
"You better deny me not as I am the son of Al-Kalbi. You will see me and how fatal my blows are. How my assault and campaign seeking my revenge and that of my companions. I repulse the attack in the wake of the attack. For my struggle in the battlefield is not a playing matter."
Then he attacked the enemy killing some and wounding others, returning to his mother, saying to her, "Are you satisfied with my deed?" She answered. "Never! unless you are killed before Hussain (A)".
His wife intervened asking him, "I put you to oath by the Almighty! Do not bereave me by getting killed". His mother said to him, "Do not pay attention to what she says; go back and carry on fighting in front of the son of the daughter of the Messenger of Allah; you will be worthy of his grandfathers intercession on the Day of Judgement". He resumed combat, killing nineteen horsemen and twelve infantry troopers. He lost both his arms and was killed. May his soul rest in peace.
His wife walked towards his body and sat near his head, wiping away blood and saying. "Congratulations for you are guaranteed a place in heaven; I pray to the Almighty to bestow it on me to make me join you". Shimr was very angry at the spectacle. He dispatched his servant to kill her; he dealt a fatal blow to her head with a truncheon; she died instantly. She was the first women among the companions of Hussain (A) to be killed.
The enemy chopped off Wahab's head hurling it towards the tents of Hussain (A); his mother hugged it and wiped the blood off his face. She then was seen holding a tent pole and heading towards the enemy. Imam Hussain (A) prevented her from engaging in combat saying, "Go back. May Allah have mercy on you. You are relieved of jihad (holy war)". She returned uttering, "Oh Lord! do not frustrate my hope". Hussain said to her, "Allah will not do so".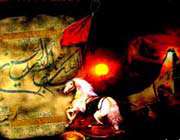 Shimr attacked the tent of Imam Hussain (A) using his spear threatening to set it ablaze. The ladies inside the tent fled screaming and were in a distraught state. Hussain (A) called on him, "Oh you son of Thil Jawshan! Are you calling for my house to be burned while my family are inside? May Allah burn you in hell fire."
Shibth bin Rib'ii said to Shimr, "You have become a source of fright to women. I have never come across neither a deed nor a stance worse than yours". He felt ashamed and withdrew.